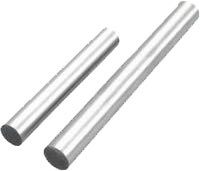 Tool Bits
Product Code : 19
Product Description
A WORD ABOUT PHOENIX TOOL BITS
RAW MATERIAL : Phoenix Tool Bits are made from finest grades of imported steel. These steel are further tested in our well equipped laboratory for grain size, chemical composition other variables and defects before further processing. This includes a whole battery of tests, from spectroscopic examination for chemical composition to microscopic tests for carbide distribution . It is made sure that raw materials used meet with our requirements.
PRECISE HEAT TREATMENT : Heat Treatment is what transforms a soft, pliable piece of steel into hard, tough and wear resistant Tool Bit . Hence other things remaining same it is the Heat Treatment that makes a Tool-Bit very much different from other Tool-Bit.This is the factor where there is no chance for compromise on quality. We have therefore opted for furnace manufactured under German licence to ensure precise Automatic temperature control and of course very close process control. Even then each batch is carefully tested for microstructure and each tool for hardness in well equipped laboratory and quality control department . After well controlled further processing what we have is Phoenix tool-bit to give you the best in every desired quality.
DESIRABLE PROPERTIES OF GOOD TOOL BITS :
HOT HARDNESS : A tool fails or performs poor at high speed of cutting if it has low hot hardness because high speed involves high temperature at the cutting edge which tends to soften the edge.
WEAR RESISTANCE : A tool may have same hardness or even lower but can stand the wear during cutting better just as valconised rubber compared to wood.
TOUGHNESS : This is most desirous property for any type of tool as capacity of tool to withstand vibrations. and shock loads depends on its toughness. This may also be called "Lack of Brittleness... This allows tool to slightly "bend" rather than "break" under shock or heavy load.
PHOENIX TOOL BIT INCORPORATES ALL THE ABOVE IN APPROPRIATE DEGREES.


Contact Us
Plot No. C-138, Phase-V, Focal Point, Ludhiana, Punjab, 141003, India
Phone :+917259648653